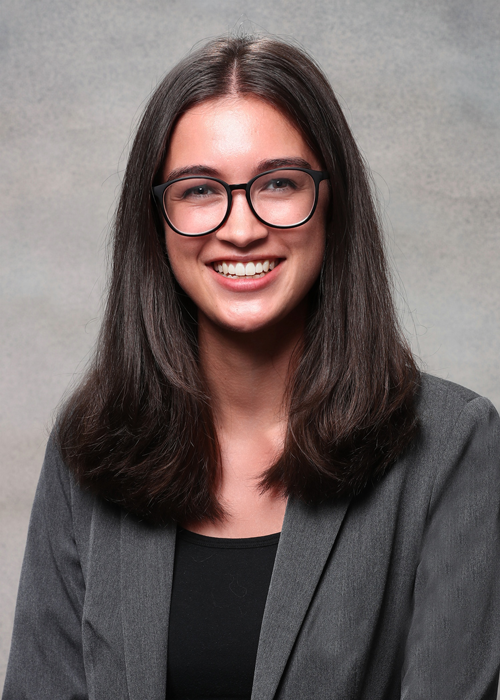 Dr. Brooke Dexheimer joined the department of Occupational Therapy as an assistant professor this past August. She manages the Novel Environments for Reducing Disability & Dysfunction (NERDD) Lab, conducting basic and translational neuroscience research aimed at understanding motor control, motor learning, and movement-related deficits following neurological injury. Dr. Dexheimer completed her PhD in Kinesiology from Pennsylvania State University. Prior to her PhD, she earned a Doctorate in Occupational Therapy (OTD) from Washington University in St. Louis and a BA in Movement and Exercise Science from the University of Northern Iowa.
What inspired you to pursue occupational therapy initially?
I've always been interested in healthcare and rehabilitation, but I realized a passion for occupational therapy specifically while job shadowing during my undergraduate education. I shadowed many amazing OTs across a variety of practice settings, and I was inspired by how each of these clinicians demonstrated a passion for working with their clients and fostering participation in occupations that were meaningful to them. During my OTD training, I continued to have several excellent OT role models, in both clinical and academic settings, and I credit all of these individuals with fostering my passion for OT and supporting my pursuit of neuroscience research.
How did you become interested in research?
During my undergraduate education, I volunteered my time in a sports performance research lab. It was during this experience that I realized I enjoy the research process, and I saw an opportunity to merge this interest with my passion for OT. During my OTD training, I completed my doctoral capstone in a motor control research lab at Pennsylvania State University, and this experience solidified my interest in the intersection between OT and basic neuroscience research. I decided to remain at this institution to pursue my PhD, and it has been hugely rewarding to know I am contributing to the field of OT through neuroscience and motor control research.
You have a fun and interesting name for your research lab. Tell us about it.
My research lab is the NERDD Lab: Novel Environments for Reducing Disability and Dysfunction. The overarching goal of the lab is to understand how the brain controls, modifies, and learns movement. We use 2D and 3D virtual reality to study how people perform and/or learn new movements under different sensory conditions and environments. We also use non-invasive brain stimulation to investigate how different parts of the brain help us move and learn, and this research can help us better understand how movement can be disrupted when someone experiences a stroke.
I think the name, "NERDD Lab," is very fitting, as I've always been a science enthusiast and self-proclaimed "nerd." Parallel to my line of research, I'm also deeply passionate about increasing accessibility to science, and I believe every individual has the right to a basic science education. I hope to foster a sense of curiosity in my students, while also providing them with the tools they need to challenge misinformation, seek out data, and evaluate science and scientific claims they may encounter both inside and outside their occupational therapy careers.
What do you hope to accomplish with your work?
My biggest goal is to unravel the mystery behind how our brain controls and learns movement. I strongly believe that by investigating the neuroscience behind motor control, we can better predict movement deficits after stroke and understand the most effective ways to target these deficits as occupational therapists.

I'm also passionate about training and mentoring the next generation of clinician-scientists. Occupational therapists are specialists in holistic rehabilitation focused on the interaction between cognitive, perceptual, and motor domains, so I believe it's extremely important that our field continues to prioritize high quality research focused on translating preclinical basic science to clinical practice.
What do you like to do when you aren't in the lab?
Outside of research, my occupations include gardening, woodworking, cooking, and spending time with my husband and our three pets (two dogs and one cat).